Andre Onana has officially joined Manchester United, he comes in and instantly has become Erik ten Hag's most valuable player.
Coming into this summer window, a goalkeeper was top priority for Manchester United and Erik ten Hag. With David de Gea's contract expiring, the Dutch manager had been urged by fans and pundits to replace him.
That is exactly what has been done, De Gea now finds himself in search of a new club after 12 years of service at Old Trafford. In his place, John Murtough has signed arguably the best pound for pound option on the market.
Andre Onana, first rose to prominence in Amsterdam playing for Ajax, under Ten Hag and now the two have reunited in Manchester with the biggest prizes in football on the mind.
Onana is a fascinating athlete who from interviews appears to have an extremely strong mental strength. His mental strength is backed by his immense talent and quality on the field which makes him world class.
In order to understand more about what the Cameroonian will bring to the Theatre of Dreams, we at United in Focus spoke exclusively with René Stam who was the Jong Ajax goalkeeping coach for over 10 years; and worked with Onana when he first arrived in Amsterdam.
READ: Confirmed Manchester United transfers in, out, loans, releases, youth for 2023/24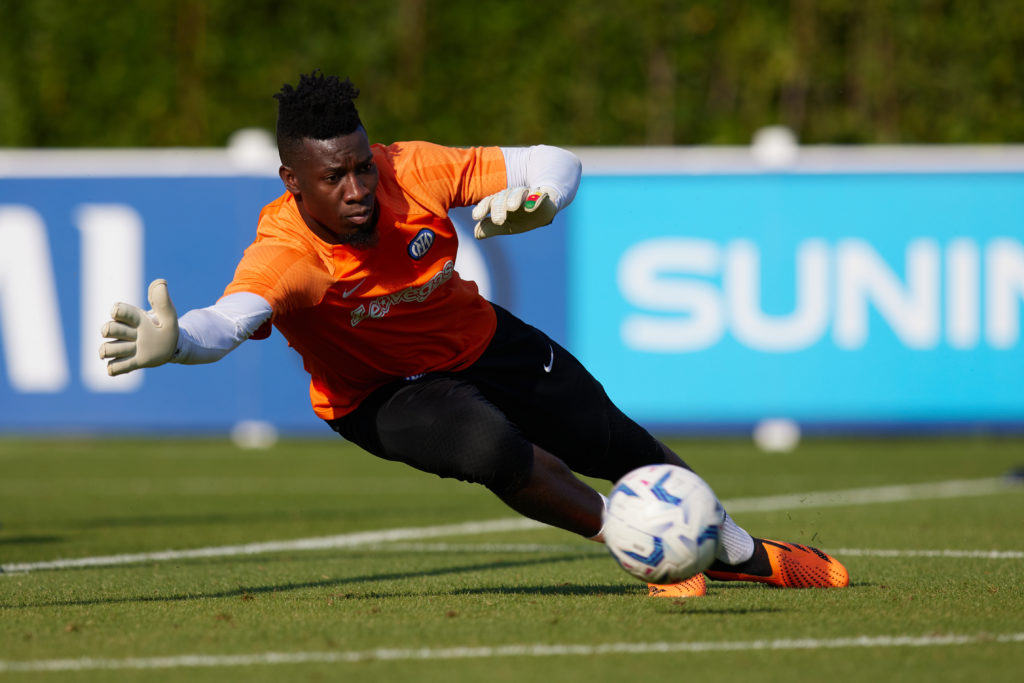 René Stam on André Onana
The ex-professional goalkeeper has known Onana since 2015, working with him one-on-one until he was allowed to play for the team. He spoke about the reasons that Ajax were attracted to him in the first place, as they scouted him while he played for the Barcelona academy in the Next Gen tournament.
MORE UNITED STORIES
On what stood out to him and the club, René said: "Well that's quite easy, he fits in with the way Ajax play. Very offensive, building out from the back and he had all the skills because he was well developed by Barcelona who play the same style, this made it easy to sign him.
"He's a natural, he knows exactly what to do it is all so natural to him, the strength of Andre is enormous because the more stress and pressure that is on him, the better he becomes, which is a good skill for a goalkeeper."
Onana's personality – René insists – lends itself extremely well to being a top quality goalkeeper, and revealed Onana is never content and always strives to improve.
"He is such a nice guy to work with, he is so talented and challenges even the goalkeeping coaches every single day because of his good skills."
René Stam on the impact Onana will have
René wasn't short of compliments for his former colleague, tipping him for future success in Manchester. He said "I think he will impress at Manchester United because the manager now, [Erik ten Hag] is a guy who wants to build out from the back."
He suggested a drastic change is likely, with David de Gea's departure likely to be huge in the development of ten Hag's team. René said: "De Gea did an excellent job, he is a great goalkeeper, but his strength is not in building out from the back.
"Onana is even more of a complete goalkeeper [than De Gea]; in making saves 1v1, he is extremely good in crosses because of his jumping and agility also he is so comfortable on the ball, he's great."
He also explained the philosophical differences between the two goalkeepers and suggested Onana's confidence will make the entire team more comfortable.
"When you build up from the back with a comfortable goalkeeper you don't have stress because there is always an extra option in defence, which is the philosophy of Erik.
"The whole team will perform 10-15% better just because of this. I was at Old Trafford last season watching the game against Brentford, and when De Gea had the ball you could feel it in the stadium, the nervousness… That will change immediately from game one I think."
René also made a prediction for United's new number one, saying that: "I think he will be a sensation next season.
"Definitely Onana is the best option for United, not because I know him well but because I know exactly the way Erik wants to play so I think he fits best in this system."
Finally, Manchester United fans and Erik ten Hag have a goalkeeper who is capable of performing the role required in the modern day game, he could end up being the best signing made in a long time.
Related Topics