Manchester United forward Manni Norkett is making a mark for the Red Devils under-18 side and has had a successful 2022.
Now he needs to kick on further in 2023 and continue to take steps forward and push to try and catch Erik ten Hag's eye. So here is a look at what you need to know about him.
Who is Manni Norkett?
Manni Norkett is Manchester United's leading goalscorer this season at under-18s level, and has a lot more to come.
Norkett has struck six goals in eight under-18s league games, and one in his one FA Youth Cup appearance this season.
His overall under-18s record in the league stands at 15 goals in 30 games, several matches he began on the bench.
Norkett stepped up and made his under-18s debut in 2021, and started well, before being squeezed out when Charlie McNeill dropped down from the under-21s, after D'Mani Mellor's return from loan.
Now with McNeill at under-21 level and ineligible to play for the 18s, Norkett is shining as the main man, with Ethan Wheatley as back-up.
Norkett ended 2022 in fine form, helping United to a dramatic 3-2 late win over City, and scoring a clinical strike at Selhurst Park in a 3-1 FA Youth Cup win.
Last season Norkett only made two late appearances from the bench in United's FA Youth Cup win, and did not make the matchday squad for the final.
This year he is the main man up front as he leads United's 2022/23 campaign to try and retain the trophy.
The striker is a natural finisher who works hard off the ball, and has been forging an impressive link-up with breakout star Ethan Williams in recent weeks.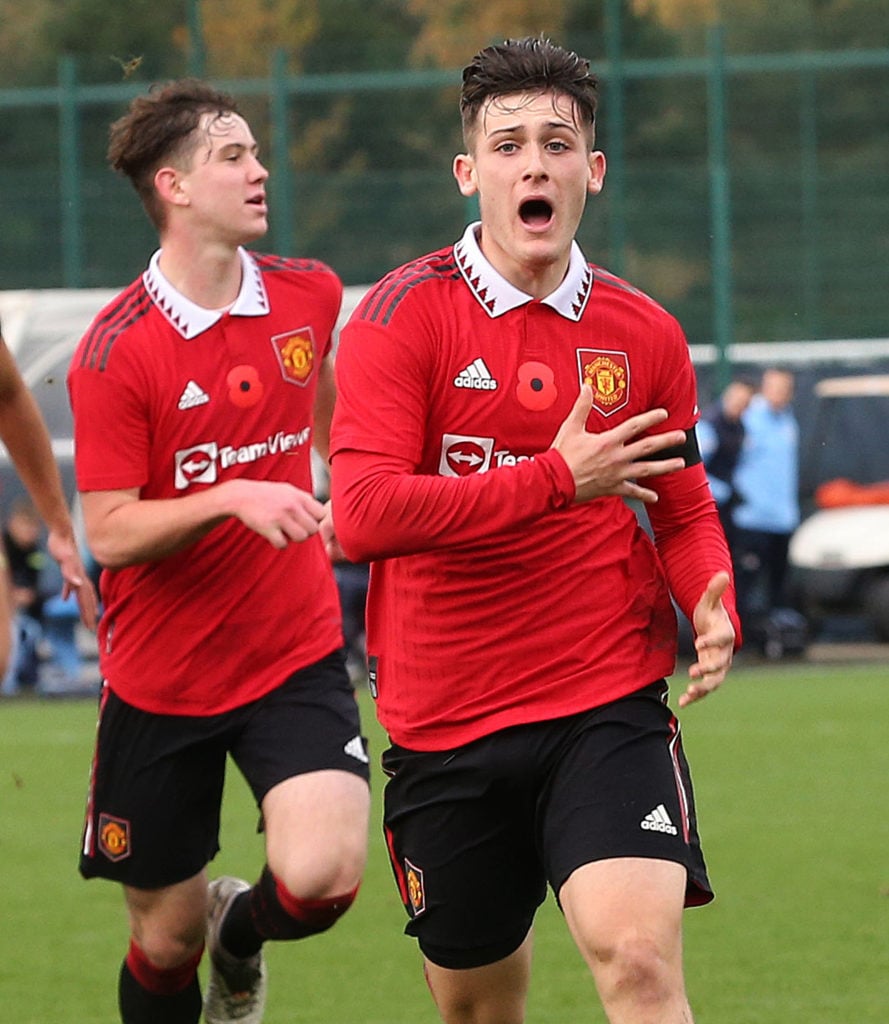 Manni Norkett background
Norkett was signed for Manchester United's academy in 2018. The teenager hails from a village named North Muskham in Nottinghamshire and he was 13 when United snapped him up.
Norkett turned down offers from 15 other clubs including Wolves and Everton, the Newark Advertiser reported at the time.
At a younger age Norkett had spent time with with Manchester City and Sheffield United's academies. But thankfully he felt Manchester United were the right option.
Norkett told the paper: "I wanted to sign for Manchester United because I think they will suit my style of play more than other teams.
"I like to run and play with a bit more freedom going forward. Football is just football for me and I love everything about it, but I like to score as many goals as I can."
Manni Norkett player profile
Full name: Manni Norkett
Nationality: English
Date of birth: 30 October 2004
Age: 18
Position: Striker
Related Topics
Have something to tell us about this article?
Let us know