Manchester United have announced a group of scholars who will step up from the under-16s this season, along with a new signing.
The group includes numerous players who have already made their under-18s debut, including FA Youth Cup winner Louis Jackson.
Jack Kingdon, Finley McAllister, James Nolan, Habeb Ogunneye (below) and Malachi Sharpe are among the players who have featured at under-18s level, who have been awarded scholarships.
There was a notable name among the list too, with United's official website confirming the arrival of goalkeeper Elyh Harrison.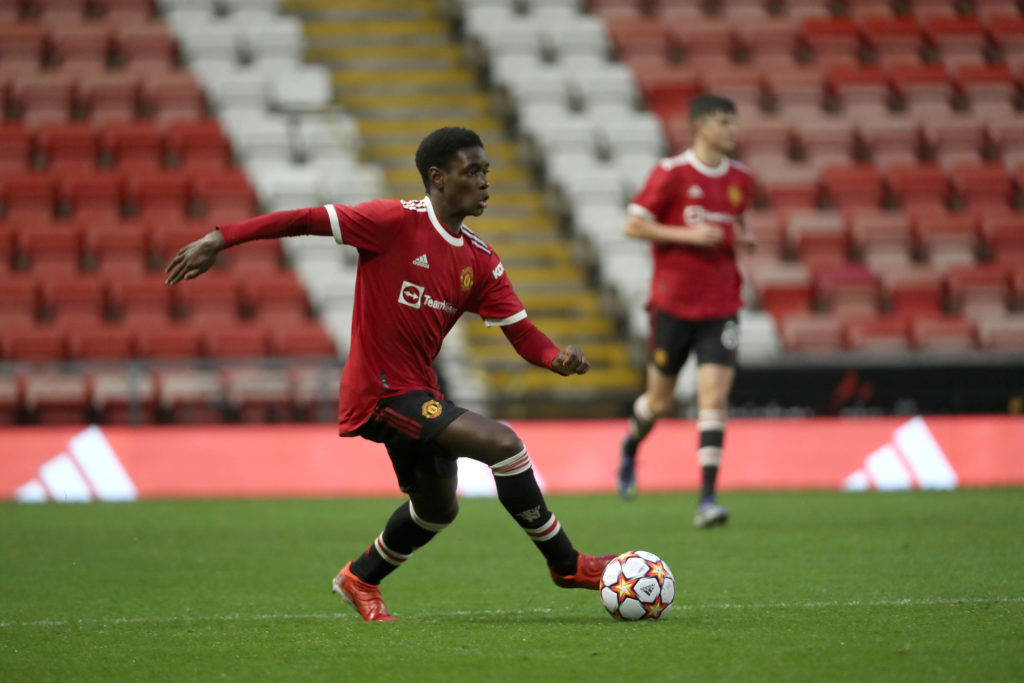 United announce 14 scholars
The following 14 players have been offered new football and education opportunities at United and will be considered for selection regularly at under-18s level this season.
Adam Berry (Forward)
Ruben Curley (Midfielder)
Elyh Harrison (Goalkeeper)
Louis Jackson (Defender)
Jack Kingdon (Defender)
Finley McAllister (Midfielder)
Ashton Missin (Forward)
Jack Moorhouse (Midfielder)
Thomas Myles (Goalkeeper)
James Nolan (Defender)
Habeeb Ogunneye (Defender)
Malachi Sharpe (Forward)
Ethan Wheatley (Forward)
Ethan Williams (Forward)
Elyh Harrison signs
The one name on the list above who has joined Manchester United is goalkeeper Elyh Harrison.
The deal was announced by his previous club Stevenage Town via their official website too.
Stevenage chairman Phil Wallace said: "Our very best wishes go to Elyh, and we will follow his career with interest. This is the fourth young player in four years that has been signed from Stevenage's academy to a Premier League club."
We told last month how Harrison had posted a message on his Instagram page hinting at a move to the Red Devils, after initial speculation over a move to United had emerged.
With FA Youth Cup winner Radek Vitek set to step up to United's under-23 side, Harrison will now compete for the under-18s spot next season and try to make his mark.
READ MORE: Confirmed Manchester United transfers, ins, outs, loans, releases for 2022/23
Have something to tell us about this article?
Let us know