FC Twente have confirmed their interest in Manchester United's Premier League whizzkid Facundo Pellistri but there is still a long way to go before the Uruguayan can join the Eredivisie outfit on loan. 
On Friday, David Moyes confirmed that West Ham had seen a bid 'accepted' by Manchester United for Harry Maguire. Bayer Leverkusen boss Xabi Alonso admitted his 'interest' in goalkeeper Matej Kovar. 
Later in the day, it was Facundo Pellistri's turn to have see his immediate future discussed very publicly. 
Arnond Bruggink, FC Twente's technical director, admits that the jet-heeled 21-year-old is indeed a target; The Reds losing both of last season's wing wizards Vaclav Cerny and Virgil Misidjan in the summer.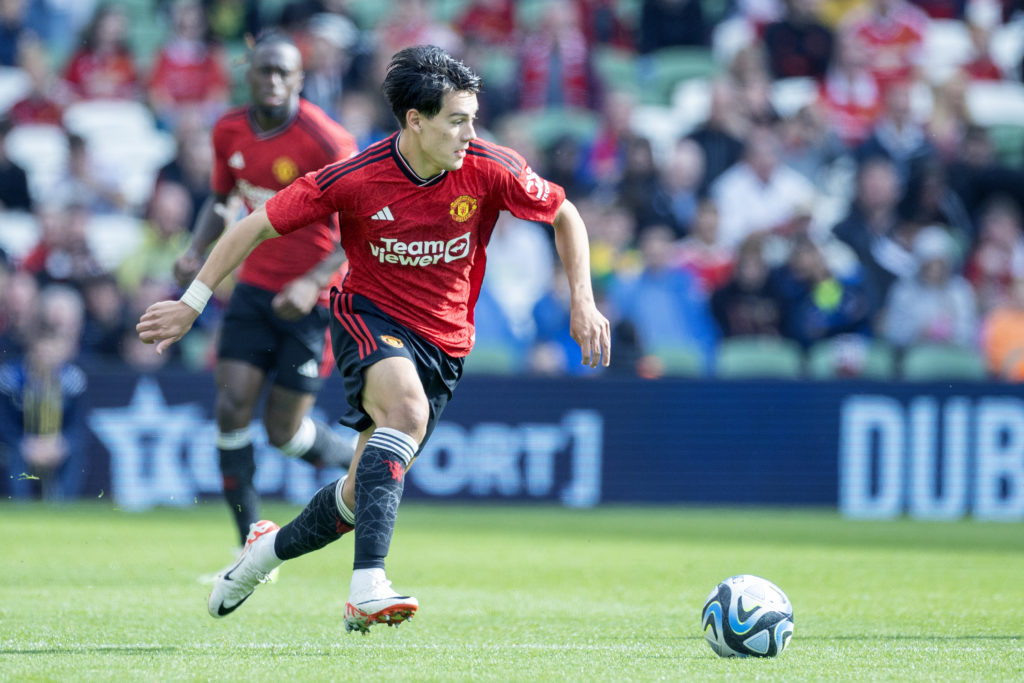 But after Pellistri shone and scored in United's final pre-season outing – a 1-1 draw with Athletic Bilbao in Dublin – might Erik ten Hag opt to keep the £9 million signing from Penarol at Old Trafford for the time being? 
Manchester United face Facundo Pellistri decision
"The name Pellistri sets the bar very high. I understand that," Bruggink tells De Oosttribune, determined to keep the dialogue open with Ten Hag and the Uruguayan's camp.  
"He is a Manchester United player. He played a match against Bilbao last Sunday, in which he was just very good. (That) doesn't help much, I can tell you.
"What we have to do is keep the agent on a leash. And we also have to keep the Manchester United manager on a leash. In the end, it's also about finances. We simply can't afford a player like that, so Manchester United have to cooperate." 
MORE UNITED STORIES
Ten Hag pushing Pellistri towards Netherlands
United will likely have to fund a portion of Pellistri's wages if he is to spend the 2023/24 campaign at Twente. The good news, for Bruggink, is that former Ajax and Utrecht boss Ten Hag reportedly believes the free-wheeling, attacking style of the Eredivisie is the ideal destination for a player who is yet to play first-team football on a weekly basis. 
"They have to think about where he has the best chance to develop, and what's good for Manchester United. And, of course, what will be good for us," Bruggink adds.
"We have to think very carefully about what we do with the little money that is still available."
Related Topics